Zurück zu den News
News
20.09.2021
Rentalite illuminates residential tower De Coopvaert
Rentalite is going to provide the De Coopvaert residential tower on behalf of MVGM Property management with LED lighting.
The existing ceiling and wall fixtures are replaced by energy-efficient Premium Power LED ceiling lamps from RentaLite with integrated motion sensor. Because the sensor is integrated in the luminaire, the existing cabling does not have to be adapted and the energy saving is still optimised. In addition, some of the fixtures will also be equipped with an integrated battery supply for emergency lighting.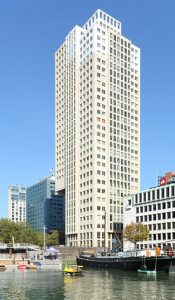 In addition to replacing the ceiling lamps in the building, RentaLite will also install LED escape route luminaires and replace the conventional T8 luminaires with impact-resistant LED luminaires.
Would you also like to know what we can do for you in terms of energy savings? Please contact us: info@rentalite.com